Opis
Olight M2R Pro Warrior + baterija  +USB kabl
1800 Lumena
Domet do 300m 
Garancija 12 meseci
.
The M2R Pro Warrior is the newest version of OLIGHT two-button straight tactical flashlight. It features a single 5000mAh 21700 chargeable lithium battery and TIR lens for uniform light
M2R Pro is the next level in tactical flashlights. It is powerful, delivering an 1,800-lumen output and a 300-meter throw; high output via a 5000mAh 21700 rechargeable battery. It is tactical; easily concealed with a quiet tail switch. It is an excellent defensive tool with an aggressive strike bezel. It provides firm grip with a new designed body texture. It is easy to operate with a raised tail switch. It is versatile; handheld and weapons mountable via a magnetic remote pressure switch( not included).
179g, 1800 Lumens: The M2R Pro is the latest version of our rechargeable tactical torch. Powered by a single 5000mAh 21700 lithium rechargeable battery, high-efficiency LED and TIR lens for uniform light, the M2R Pro delivers a maximum output of 1800 lumens with a beam distance of 300m. Battery and magnetic charge lead included!
Features:
High Performance

 

Neutral White LED

 

with a maximum output of 1800 lumens
Includes a customised 5000mAh 21700 rechargeable lithium battery which is charged magnetically through the tailcap charging cable at up to 2A.
Updated quiet magnetic metal tailswitch provides easier operation in gloves and tailstanding.
Two selectable user modes for dual position tailswitch.

Outdoor

 

(Medium and Turbo, both momentary and constant on)
Tactical

 

(Momentary Turbo and momentary Strobe)

Features a battery indicator located on the side switch so you know when to charge. Indicator glowing green (Battery remaining>=70%), indicator glowing yellow (Battery remaining 15-70%), indicator glowing red (Battery remaining>=15%)
Portable faster charging MCC3 2A USB charging cable provided in the package
Brand-new TIR lens design producing a perfectly balanced beam
Multi-function side switch with six brightness levels, memory function, lock-out plus strobe mode
Crenulated Stainless Steel strike bezel

Included Accessories:
Customized 5000mAh 27100 battery x 1
MCC3 magnetic USB charging cable x 1
User manual x 1
Holster x 1
Stainless steel pocket clip x 1
Lanyard x 1
Specifications:
Output / Runtime:

Level 1: 1800 lumens / 4.5 minutes (gradually steps down to 750 lumens during 4.5 minutes, then continues @ 750 lumens for 145 minutes before dropping to 250 lumens for another 45 minutes.)
Level 2: 750 lumens / 160 minutes (then gradually steps down to 250 lumens for 45 minutes)
Level 3: 250 lumens / 10 hours
Level 4: 60 lumens / 40 hours
Level 5: 15 lumens / 130 hours
Level 6: 1 lumens / 50 days
Strobe: 13Hz at 1800 lumens

Power Source: Customized 5000mAh 21700 Battery (included)
LED Tint: Neutral White
Beam Intensity: 22,400cd
Max Throw: 300 meters
Impact Resistance: 1.5 meters
Water Resistance: IPX-8, 2M
Weight: 179g (including battery)
Dimensions:

Length - 136.5mm
Head Diameter - 29.5mm
Body Diameter - 26.2mm
Informacije o proizvodu
Olight Ecommerce Technology Co., Limited
Slični proizvodi
NOVO
Olight Warrior Mini 2
Taktičke lampe
Olight Warrior Mini 2 + baterija + USB kabl 1750 Lumena Domet do 220m Senzor blizine Poboljšana sigurnost korisnika: ugrađeni senzor blizine koji smanjuje svjetlinu radi zaštite od objekata...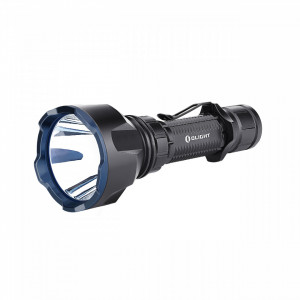 NOVO
Olight Warrior X Turbo
Lovačke lampe
Olight Warrior X Turbo + baterija + USB kabal Domet do 1000m 1100Lumena Baterija Li Ion tip 21700(sa 5000mAh) do 12, 5 sati autonomije Punjenje strujom do 2A Otporna na padove do 1, 5m...